Proven Ways To Multiply Your Sales & Business With Little Known Biblical Strategies and Overlooked Natural Law In Any Economic Environment!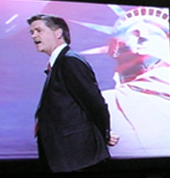 I didn't say it would be easy. But if you're ready to discover the way God does things and mold yourself around His ways and His will, you will experience amazing results. This is not a quick fix, yet you will experience many "suddenly" moments where God shows Himself strong on your behalf.
This is not some worldly approach that bows to mammon but calls it Christian. You will NOT learn how to "release the giant within"! If anything, you will learn how to gain mastery over that which exalts itself against the knowledge of God and walk in the power of His Spirit, guided by His Word.
In short, you will learn God's amazing ways as revealed in Scripture and the things He has made, and how they can produce incredible results in your business and professional life. So get ready to dial in, listen up and learn. This could be what you've been looking for your whole life. I know it was for me! Register now!