FREE ONLINE TRAINING
How We Help Financial Advisors Get FLOODED With Qualified Leads Every Week
How To Generate 10+ Local, Targeted Qualifed Leads Every Month
Register Now
Dr. Len Schwartz
While 95% of your profession is still using old, outdated marketing efforts to generate a few qualified leads per month, you'll learn how to use and LEVERAGE LinkedIn to generate 10 (or more) of YOUR IDEAL NEW CLIENTS every month until you decide to turn this "marketing machine" off.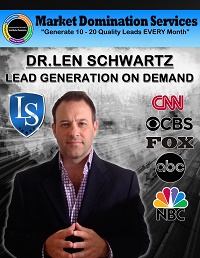 Time left until webinar starts…
WHO is this training for?
Financial Advisors that are already moderately successful but want to get to the next level.

Financial Advisors that are used to investing in themselves and their business.

Advisors who want to STOP chasing leads forever and would prefer to have their ideal clients reach out to them directly with interest in learning more about how they can help them.

Financial Advisors that want to learn how to "tap into" an endless SOURCE of Mid/HNW wealthy clients on LinkedIn?

Advisors that want to STOP having to go to networking or breakfast meetings.

Advisors that want to STOP making cold calls and never have to deal with gatekeepers again.

Advisors that want to CONTROL all of their lead generation in 15 – 30 minutes per day from their laptop – whether it's from their home, office or even vacation.

Advisors that are tired of working to many hours and not earning the income they feel they deserve.

Advisors that want to charge more, work LESS and be home by dinner every night.

Advisors that want to be known as the Go-To EXPERT in their city.

Advisors that can want NEW clients right NOW…and every month for at least the next few years.