Special Event!!
Microcurrent: Medicine of the Future
You are invited to a special event to learn how microcurrent will change your life. I promise your that "Microcurrent the Medicine of the Future" will change everything you know about health care. More and more doctors are discovering the benefits of this remarkable therapy. Last year the New York Times Magazine devoted a feature article on the miracles of Microcurrent! The article stated that microcurrent can cure many diseases and will be the medicine of the future.

I never travel without my microcurrent machine and it was key to my completing the 500 mile Camino di Santiago!

You're You are invited to special live training event called, "Microcurrent Medcine of the Future" You will discover during this live event:
Why microcurrent has the potential to replace the pharmaceutical industry, eliminating the harmful and addictive effects of drugs by using microcurrent

Reverses years of damage to your eye.

The number one use for microcurrent. No it is not treating the eye.

Why it was so popular on the 500 mile Camino di Santiago!

Major researchers are now patenting microcurrent signals for commercialization!

What is the best way to learn more about microcurrent and get started on your own!

And much more!

All attendees will receive a copy of my bestselling book, but you must register now since copies of this book are limited!
Microcurrent Stimulation: Miracle Eye Cure!

a $24.95 value FREE!!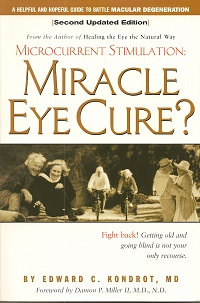 Join this special event now and make this important treatment part of your life!



Sincerely

Edward C. Kondrot, MD, MD(H)