Real Estate Marketing

How to Set Leads Generation and Property Selling on Automatic Pilot without Spending Money on Advertising
Presenter: Laura Al-Amery

Webinar: Marketing for Real Estate Investing - How to Automate and Succeed

Webinar Date: Thursday, April 2
Would you like to learn how to find more buyers, and sellers for your properties, without spending a dime on advertising?
Discover how you can use the internet, social media, SEO, and other 21st century technologies to grow your real estate business for FREE!
Many businesses find themselves seeking the right strategies, tools and tactics to make their marketing efforts as effective as possible.
But between Facebook, Linkedin and Twitter, email and mobile, blogging, and whatever new social network is rolling out that month – there's a lot to keep up with. And there are only so many hours in each day. The number of possibilities can feel overwhelming.
Let's face it. First and foremost, you want to be a real estate investor, not a marketer.
This session will help make sense of the noise and I am going to show you how to make the most of the combination of the best and most effective internet channels for your business. without spending a lot of time or money.
Participants will learn:
• The Importance of Building a Brand and Reputation Online;
• Top Winning Strategies of a Successful Marketing Campaign (online and offline;)
• The Money is in the List! How to build a qualified "ready and eager" buyers' list;
• Social Media Secrets - how to use social media for instant real estate marketing success;
• Blogging and Websites - what you should target for most effectiveness and how to end up on the first page of Google in days!
• Direct Marketing - Winning mailing campaigns - what to do, why and when;
• The Top 3 and Only Strategies you Need to Find Motivated Sellers Now;
... and much more!
I look forward to empowering you with the knowledge and strategies to implement a winning marketing plan.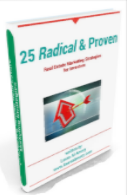 My warmest wishes for your success,
Laura Al-Amery
BONUS for everyone attending the webinar!
25 Radical & Proven Real Estate Marketing Strategies for Real Estate Investors
---
About Laura Al-Amery
Laura Al-Amery is a real estate investor and consultant with extensive experience in several aspects of the real estate business. She has practiced real estate nationwide for over 25 years and she has hosted seminars and public speaking engagements for over 15 years, in subjects like wholesaling, creative financing, building wealth with multi-family buildings, commercial real estate, buying notes and short sales, probate, tax liens and other areas of real estate investing.
She has successfully started and leaded a real estate syndication group of private investors who actively purchase, rehab and sell properties since 2001. She has also being actively wholesaling properties for over 20 years and held a real estate license in several states.
She currently runs several real estate clubs across United States and actively coaches real estate investors nationwide, live and online.
Laura's Experience in Marketing - Having been in real estate investing since the 1980s, she has survived and succeeded as a real estate investor, by understanding and implementing the latest marketing strategies, always tweaking and experimenting for best performance and minimum cost. From direct marketing (letters and postcards,) to landing pages and social media, her results have been measurable and speak for themselves. By incorporating old fashion marketing (direct and personal contact) with new technology and expectations (social media and email,) she has a well rounded and complete approach to the most effective marketing channels for real estate investing.
Laura stays on the cutting edge of real estate investing by actively updating her strategies and information, keeping up with the changing times and real estate business evolution. As a mentor and teacher she has helped hundreds of investors get off to the right start in investing and consulted experienced investors in taking their strategies to the next level.
Laura left the corporate world in 1995 after obtaining an MBA in Finance, in order to invest in real estate full time (after she realized she was making more money working in real estate part time than her full time corporate job as an assistant controller.)