Attention: New and Experienced Real Estate Investors

 The Rules have changed: find out what 2017 has in store for real estate investing and the best strategies out there!
Presenter: Laura Al-Amery
Webinar: New Year, New Career in Real Estate. A Step by Step Approach.
Webinar Date: Wednesday, April 8
Let's create an Action Plan together during this Special Presentation, where I am going to share with you a step by step approach to make 2017 the best real estate investing year ever!
You will receive the Action Plan Workbook to download after you register and please have it with you while you attend the online presentation, where we will fill in the blanks together.
You will learn:
What will work in real estate investing in 2017?

Ready, Set, Go! Your 3 Week Step by Step Action Plan!

How to set your real estate investing business on autopilot
... and much more!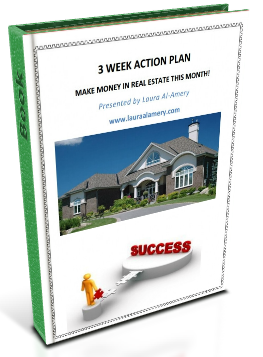 Everyone registering will receive the 3 Week Action Plan Workbook to download!
I look forward to empowering you with the knowledge and strategies to start making money in real estate right away and truly reach financial independence in 2017!
My warmest wishes for your success,
Laura Alamery
About Laura Alamery
Laura Alamery is a real estate investor and consultant with extensive experience in several aspects of the real estate business. She has practiced real estate nationwide for almost 30 years and she has hosted seminars and public speaking engagements for over 15 years, in subjects like wholesaling, creative financing, building wealth with multi-family buildings, commercial real estate, buying notes and short sales, probate, tax liens and other areas of real estate investing.
She has successfully started and leaded a real estate syndication group of private investors who actively purchase, rehab and sell properties since 2001. She has also being actively wholesaling properties for over 20 years and held a real estate license in several states.
She currently runs several real estate clubs across United States and actively coaches real estate investors nationwide, live and online. She is also the organizer and promoter of training and education nationwide, with renowened speakers/guests like Robert Allen, Ron LeGrand, Larry Goins and many more. She also co-organizes international and national real estate expos with Realty411 Magazine.
Laura stays on the cutting edge of real estate investing by actively updating her strategies and information, keeping up with the changing times and real estate business evolution. As a mentor and teacher she has helped thousands of investors get off to the right start in investing and consulted experienced investors in taking their strategies to the next level.