Discover how you can get your marketing (and more!) paid for through corporate sponsors
If you're like most entrepreneurs and business leaders, you've felt a pinch in your profits the past couple of years. It seems like there's less money out there then before.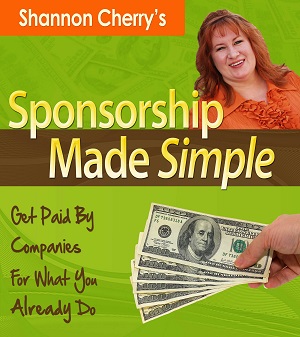 But what if I told you there's a mostly-untapped $17 Billion (That's BILLION, with a B) in money, waiting for you to grab your share?


Learn the secrets of getting thousands of dollars in sponsorships...
You can get paid for doing what you already do or for what you want to do (you can get sponsored for practically anything you could imagine) by companies looking for people, promotions and events to underwrite.
And best of all, if done correctly you can create sponsorship deals that are often worth thousands of dollars. It's the untapped marketing technique that allows you to get sponsors to pay for your events, gear, clothing, travel and even upfront cash payments.
You are personally invited to attend this absolutely free training, Win-Win-Win Your Way to Profitable Influence: How to Get Companies to Pay You to Market to Your Audience, to learn my secrets for getting sponsors to pay me for just about EVERYTHING I do, including my clothes and makeup, my computers, gifts for clients, blogging, attending and hosting events and much more.
When you join us, you'll discover:
Why companies have millions of dollars to dole out
Why a company would be interested in you and what you're doing
What you really need to offer to land a sponsorship
What a sponsorship can pay for
And much, much more!
You really need to be there LIVE at this training! Here's why:
Reason #1: You'll get a WEBINAR HANDOUT so you can implement what you'll learn, as you are learning it on the live webinar.
Reason #2: During the live webinar, I will give you access to a FREE GIFT (worth $67) that will teach you my stealth strategy to find the right sponsors for you.
Reason #3: And I'll tell you how you can get some INSTANT SPONSORSHIP MENTORING fast as well as my entire Sponsorship Made Simple training.
So register today!